Discover the top-rated Dyson vacuum cleaners designed specifically for pet parents. From the powerful suction to specialized attachments, find the perfect Dyson model to effectively tackle pet hair and dander. Say goodbye to allergies and enjoy a cleaner home environment with our comprehensive guide to choosing the best Dyson vacuum cleaner for pet owners.
Firstly, let's find out why choosing the right specialized vacuum cleaner for pet hairs and dander is so important.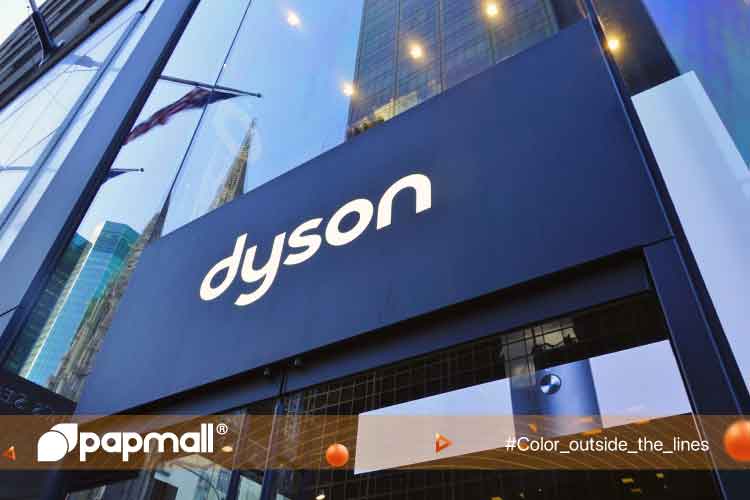 Dyson vacuum models are now popular around the world as one of the most powerful cleaning machines for household chores.
The importance of choosing the right specialized vacuum cleaner for pet hairs and dander.
Choosing the right specialized vacuum cleaner for pet hairs and dander is of utmost importance for several reasons:
Effective Pet Hair Removal: Pets, especially those with long or shedding coats, can leave behind a significant amount of tiny hair on various surfaces like carpets, upholstery, and floors. A specialized vacuum cleaner designed for pet hair removal has features such as powerful suction, motorized brush rolls, or specialized attachments that can effectively lift and remove pet hair from different surfaces.
Allergen Control: Pet dander, which includes microscopic skin particles, can trigger allergies and respiratory issues in sensitive individuals. A vacuum cleaner with an advanced filtration system, such as HEPA filters, can efficiently capture and trap pet dander and other allergens, preventing them from being released back into the air.
Odor Management: Pets can bring their distinct odors into the home, which can be challenging to eliminate. Some specialized vacuum cleaners incorporate odor control technologies or filters that help neutralize pet-related smells, allowing you to effectively manage and minimize unpleasant pet odors, creating a fresher and more pleasant living environment.
Durability and Maintenance: Pet hair can strain a vacuum cleaner's motor, brush rolls, and filters. Choosing a vacuum cleaner specifically engineered to handle pet hair ensures greater durability and longevity. Additionally, specialized vacuum cleaners often have features that make maintenance easier, such as detachable and washable components, reducing the risk of clogs and prolonging the vacuum's performance.
Convenience and Efficiency: Specialized vacuum cleaners for pet hair often come with user-friendly features, such as tangle-free brush rolls or self-cleaning mechanisms, which save time and effort during cleaning sessions. They are designed to effectively tackle the unique challenges of pet hair removal, making the cleaning process more efficient and hassle-free.
By selecting the right specialized vacuum cleaner for pet hairs and dander, you can effectively manage pet-related messes, maintain a cleaner living environment, reduce allergens, control odors, and simplify the cleaning process. It contributes to a healthier, more comfortable home for both you and your beloved pets.
Because of those above benefits, it is essential to choose for your places a vacuum cleaner that is specially designed for cleaning pet hairs and dander with the following factors. And one of the most trusted brands nowadays is Dyson, a brand of innovative vacuum cleaners with high-quality and cutting-edge cleaning technology.
4 Factors to Consider When Choosing a Dyson Vacuum for Pet Owners
Suction Power:

Effective pet hair removal requires strong suction power to lift and capture embedded hairs from various surfaces. Therefore, you need to look for Dyson models with powerful motors and optimized airflow designs to ensure efficient pet hair pickup. Also, don't forget to consider models with adjustable suction settings, allowing you to customize the suction power based on the surface type or level of pet hair accumulation.

Filtration System:

A reliable filtration system is crucial for pet owners to capture and trap pet dander, allergens, and other airborne particles. And Dyson vacuums often feature advanced filtration technologies, such as HEPA filters, that can capture microscopic particles as small as 0.3 microns. When considering a Dyson vacuum, take your time to check for models with whole-machine filtration, which ensures that the expelled air is cleaner and free from allergens, providing a healthier environment for both pets and humans.

Specialized Attachments:

Dyson offers a range of specialized attachments and tools designed specifically for pet hair removal. Motorized brush rolls or pet hair turbo brushes are particularly useful for effectively agitating and removing stubborn pet hair from carpets, upholstery, and other surfaces. You'd better look for Dyson models that come with pet-specific attachments like crevice tools, grooming tools, or mini-motorized tools for cleaning hard-to-reach areas or tackling pet hair on furniture and stairs.

Maneuverability and Versatility:

It is best to consider the maneuverability and versatility of the Dyson vacuum, especially in homes with pets by looking for models with swivel steering or ball technology that provides easy maneuvering around furniture and obstacles.

Try choosing a vacuum with a flexible hose and a long reach to access difficult-to-reach areas or to clean pet hair from high surfaces like ceilings or drapes. Also, consider the weight of the vacuum to ensure comfortable handling, especially during extended cleaning sessions.

By considering these factors—suction power, filtration system, specialized attachments, and maneuverability/versatility—you can select a Dyson vacuum cleaner that is specifically designed to tackle the challenges of pet hair and dander, ensuring effective cleaning and a healthier home environment for both you and your pets.

Below is a list of Dyson vacuum cleaners that are top-rated for pet owners.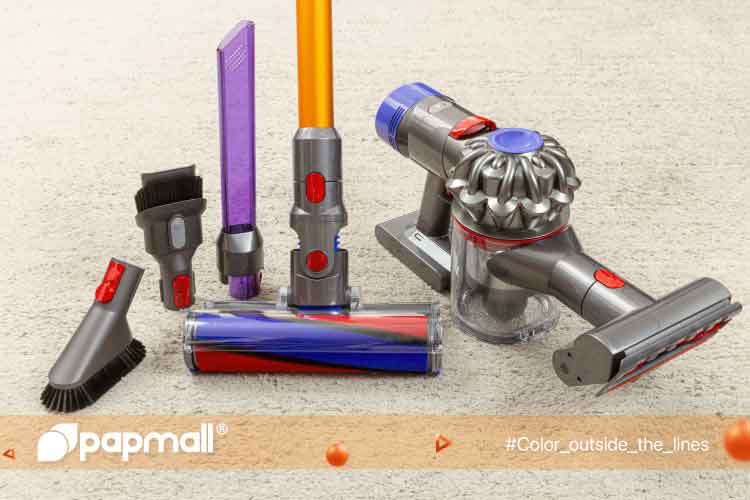 The brand has introduced so many vacuum models that it's hard to figure out what the best Dyson vacuum cleaners are.
Top Dyson vacuum cleaners for pet owners
Dyson Ball Animal 2:
Key Features:

Radial Root Cyclone technology for strong suction
Self-adjusting cleaner head for optimal performance on different floor types
Tangle-free turbine tool and combination tool for pet hair removal
HEPA filtration system for capturing allergens

Pros:

Powerful suction for effective pet hair and dust removal
Self-adjusting cleaner head adapts to various surfaces
Specialized tools and attachments for efficient pet hair cleaning
High-quality HEPA filtration for improved air quality

Cons:

The upright design may be less maneuverable in tight spaces
Corded design limits mobility compared to cordless models
Can be heavier and bulkier than some other Dyson models
Dyson V11 Animal:
Key Features:

Dyson V11 digital motor for strong suction power
Cordless design for easy maneuverability
Mini motorized tool for upholstery and confined spaces
LCD screen displays battery life and performance information

Pros:

Cordless convenience and flexibility for versatile cleaning
Powerful suction suitable for pet hair removal
Lightweight and easy to maneuver around the house
LCD screen provides helpful real-time information

Cons:

Limited runtime compared to corded models
Can have a smaller dustbin capacity
May require periodic charging and battery management
Dyson Cinetic Big Ball Animal:
Key Features:

Dyson Cinetic technology prevents filter clogging
Powerful suction and efficient dust separation
Self-righting design for enhanced convenience
Multiple attachments for different cleaning needs

Pros:

No filter maintenance required due to Cinetic technology
Powerful suction and efficient dust separation
Easy maneuverability with the self-righting design
Versatile attachments for various surfaces and areas

Cons:

Canister design may be less preferred for some users
Can be bulkier and require storage space
May have a higher price point compared to other models
It's important to note that the suitability of a particular model depends on individual preferences and specific cleaning needs. Consider factors such as desired mobility, cleaning surface types, runtime requirements, and budget when choosing the ideal Dyson vacuum cleaner for your pet hair removal needs.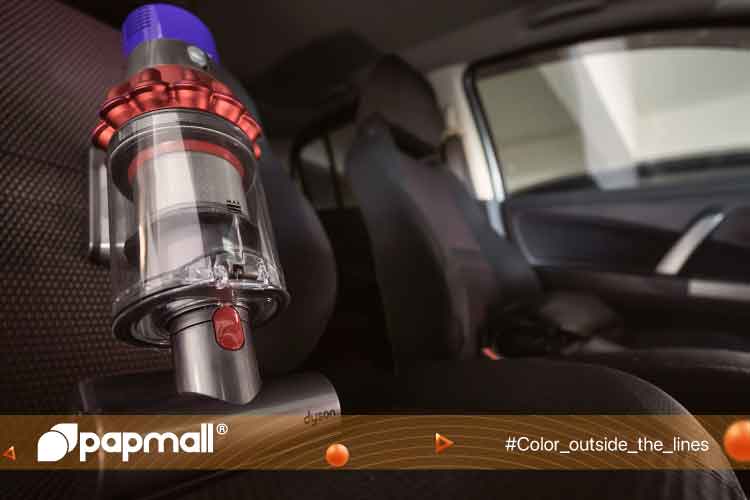 There are Dyson vacuum cleaners for a wide range of purposes, including car interior cleaning.
Comparison and Evaluation of the Featured Dyson Models
Dyson Ball Animal 2:

Suitable for: Larger homes with various floor types, heavy shedding pets, and those with allergies or sensitivities.
Living Spaces: The Dyson Ball Animal 2's upright design and powerful suction make it well-suited for larger homes with carpets, hardwood floors, and other surfaces. Its self-adjusting cleaner head ensures optimal performance on different floor types.
Pet Hair Scenarios: The tangle-free turbine tool and combination tool effectively remove pet hair from upholstery, stairs, and other areas. The HEPA filtration system helps capture allergens and pet dander, making it suitable for households with allergy sufferers.

Dyson V11 Animal:

Suitable for: Smaller to medium-sized homes, those seeking cordless convenience, and quick cleanups.
Living Spaces: The cordless design of the Dyson V11 Animal makes it highly maneuverable and suitable for smaller living spaces. Its versatility allows for cleaning floors, furniture, and above-floor areas with ease.
Pet Hair Scenarios: The mini motorized tool is perfect for removing pet hair from upholstery and confined spaces. The V11 Animal's strong suction power makes it effective for cleaning up pet hair on carpets and hard floors.

Dyson Cinetic Big Ball Animal:

Suitable for: Homes with multiple surfaces, pet owners looking for a canister vacuum, and those seeking advanced filtration technology.
Living Spaces: The Dyson Cinetic Big Ball Animal's canister design offers flexibility and maneuverability, making it suitable for different living spaces. Its self-righting feature ensures convenient use and easy navigation around furniture and obstacles.
Pet Hair Scenarios: The efficient dust separation and powerful suction make it ideal for removing pet hair from carpets, upholstery, and other surfaces. The multiple attachments cater to various pet hair scenarios, such as cleaning stairs, furniture, and hard-to-reach areas.
In summary, the Dyson Ball Animal 2 is well-suited for larger homes with various floor types and heavy-shedding pets. The Dyson V11 Animal offers cordless convenience and versatility for smaller to medium-sized homes. The Dyson Cinetic Big Ball Animal provides flexibility, advanced filtration, and efficient pet hair removal in homes with multiple surfaces. Consider your living space, pet hair scenarios, and specific needs to choose the Dyson vacuum cleaner that best fits your requirements.
And above are our suggestions on Dyson vacuum cleaners for pet parents. We hope this article is helpful enough for you to make your final decision.
FAQs
What not to vacuum with a Dyson?
While Dyson vacuums are versatile and designed to handle a wide range of cleaning tasks, there are a few items you should avoid vacuuming with them to prevent damage to the vacuum or potential safety hazards. Here are some things you should not vacuum with a Dyson or any other vacuum cleaner:
Liquid or wet substances: Most Dyson models are not designed to handle liquid or wet messes. Vacuuming liquids can damage the motor or electrical components of the vacuum. It's best to clean up liquid spills with appropriate tools, such as a mop or absorbent cloth.
Fine powders: Fine powders like flour, baking soda, or plaster can clog the filters and reduce the suction power of your Dyson. If you need to clean up fine powders, it's recommended to use a specialized vacuum or follow the manufacturer's instructions for your Dyson model.
Hot or burning materials: Avoid vacuuming hot ashes, coals, or burning debris, as these can potentially cause a fire hazard by igniting flammable particles inside the vacuum cleaner.
Sharp or large objects: Vacuuming sharp or large objects like nails, screws, glass shards, or coins can damage the vacuum's internal components, including the brush bar or the hose. These items may also pose a safety risk, so picking them up by hand is best.
Delicate or valuable items: Avoid vacuuming delicate or valuable items such as jewelry, coins, small toys, or collectibles. The suction power and movement of the brush bar can potentially cause damage or loss.
Always refer to the user manual provided by Dyson for specific instructions and recommendations for your model. If you're unsure about vacuuming certain items, it's best to err on the side of caution and clean them using alternative methods or tools.
What is the newest Dyson vacuum?
As of my knowledge cutoff in September 2021, the newest Dyson vacuum is the Dyson V15 Detect. However, please note that Dyson regularly releases new models and updates to their vacuum lineup, so there may be newer models available beyond that date. It's recommended to check Dyson's official website or consult recent sources to find the most up-to-date information on their latest vacuum models.
What cordless vacuum is comparable to Dyson?
When it comes to cordless vacuums, there are several brands that offer models comparable to Dyson in terms of performance and features. Some notable competitors in the cordless vacuum market include:
Shark: Shark vacuums, particularly the Shark Rocket and Shark Navigator series, are often considered as direct competitors to Dyson. They offer strong suction, versatile designs, and various attachments for different cleaning needs.
Tineco: Tineco is a brand known for its high-performance cordless vacuums. Models like the Tineco A11 and Tineco PURE ONE S12 offer powerful suction, long battery life, and smart features similar to Dyson vacuums.
LG CordZero: LG's CordZero series of cordless vacuums provide strong suction power and versatile cleaning capabilities. They often come with features like dual battery systems, multiple cleaning modes, and advanced filtration.
Hoover: Hoover offers cordless vacuums like the Hoover React and Hoover Fusion series, which provide good cleaning performance and versatility. These models often come with removable batteries, different cleaning modes, and useful attachments.
Bissell: Bissell's cordless vacuum lineup, such as the Bissell ICON and Bissell MultiReach series, offer solid cleaning performance, lightweight designs, and various attachments for different surfaces.
While these brands offer comparable performance to Dyson, it's important to compare specific models, features, and customer reviews to find the cordless vacuum that best suits your needs and preferences. Additionally, keep in mind that the availability and specific models may vary by region and over time, so it's recommended to research the latest offerings from each brand.