papmall® is the best e-commerce platform for selling various products and services that you're looking for
papmall® is a trusted global e-commerce marketplace, which not only provides online shoppers a simple, secure, and enjoyable digital shopping experience, but also plays as a solution for global sellers to optimize sales revenue.
Start an online e-commerce business
Join in on the e-commerce boom and sell globally. Set the margins that work best for your business model and start selling.
Secure & flexible payments
Offer multiple payment options.
Guarantee protection with highly-secured payment features.
Payout seamlessly with any bank accounts and e-wallets.
It's FREE!
No setup fees.
No hidden fees.
No advertising fees.
No technical support fee.
Go global
Scale up your business easily and swiftly to reach a wider range of customers.
Sell to anyone in the world from the comfort of your own home.
Technical support
No technical requirements.
SEO & Paid ads support.
Flexible APIs.
Frauds and risks management
Manage and minimize frauds and risks so that customers can trust and enhance your reputation when doing business on papmall®.
What can you sell on papmall®
papmall® specializes in digital software solutions together with a bunch of products and services for individuals to business organizations including startups and SMEs.
Why papmall®
Set up PAP in minutes
Set up your store with our ready-made e-commerce platform in the blink of an eye to sell anywhere in the world and skyrocket your sales.
Sell with confidence
The Top Rated Seller reflects all your hard work and reputation.
Increase your conversion rates.
Maximize your sales revenue.
24/7 support
papmall® team supports in a timely and pleasant manner to make sure our customers are not merely satisfied. They are actually happy with our products and services.
One-Stop Solution
Online stores.
Check out.
Promotion channels.
International commerce.
Buy button. (Coming soon)
Custom storefront tools. (Coming soon)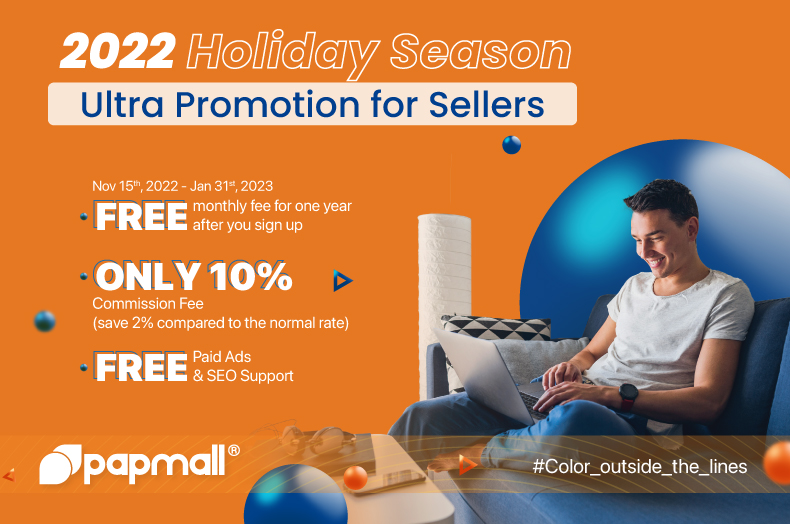 Online Store
Includes e-commerce websites and blogs.
Staff accounts
Staff members with access to the papmall® admin.
Sales channels
Sell on online marketplaces and social media. Channel availability varies by country.
Third-party calculated shipping rates(coming soon)
Show calculated rates with your own account or third-party apps at checkout.
Customer segmentation
Filter and group customers into hundreds of segments.
Marketing automation
Send automated emails with templated or custom workflows.
E-commerce automations (Coming soon)
Automate manual tasks, build workflows, and grow your business.
International market management
Define geographic market areas to ensure you are providing a localized buying experience for customers in different regions.
Market domains and subfolders(Coming soon)
Assign custom web addresses for each market that are optimized for search results and automatically redirect customers to the right domain based on their market.
Language translation
Assign translated languages to customers in different markets to provide a familiar shopping experience.
Currency conversion
Automatically convert prices into your customer's local currency to drive conversion in each market (requires papmall® payments).
Local payment methods
Set local payment methods to appear for customers who check out in specific markets (requires papmall® payments).
Custom pricing by market
Take greater control of your international pricing strategy by setting specific prices for products or product variants in each market.
How papmall® Works
1

Create an account

Sign up for free, set up your store, and offer your products and services to our global audiences.
2

Deliver great work

Get notified when you get an order, and use our system to discuss details with customers.
3

Get paid

Get paid on time, every time. Payment is transferred to you upon order completion.
How to sell on papmall®
Create your account at papmall®.
Click on Become a Seller and follow the steps.
Submit required documents to papmall®, and wait for papmall®'s approval.
Your account is ready to use, and you can start selling on your PAP instantly.
We would love to hear from you
papmall® values each and every feedback from our clients on the products & services as well as how we can better improve your experiences.
Offer practical assistance and guidance.
Get round-the-clock support via phone, live chat, emails.
Call Us:
Email Us:
We will contact you shortly
Top global brands and companies use papmall® to scale up their businesses.
What entrepreneurs like you are saying about papmall®
Their experts and their services have allowed me to focus on the thing that I'm good at: UI/UX design. papmall® has proved a very professional and reliable platform for me.
Liam Harris
I have a bricks-and-mortar store and have been selling on papmall® now. Their fees are reasonable. They have never failed to pay me and they have been supportive when customers dispute my delivery.
Evelyn Clark
A very Genuine Platform to start your Freelancer Career
Daniel Walker
Very good place for freelancers and small businesses. The payment system is one of the best.
Park Jin Joo
papmall® has given me the freedom & flexibility to be a professional and a mom
Clara Schneider
Quickest and safest place to share your products and services online! Communication with the client is straightforward, and it feels secure to apply and spend precious time on the PAP with papmall®'s clients and the client's payment verification methods. It's easy to track time with its dashboard.
Carlos Rodriguez
I like the ability to choose which PAP/projects I want to accept from clients. papmall® has been a great second source of income and a great opportunity to grow my skills and my business.
Emma Wu
papmall® has a super duper customer service. They support me swiftly and deliver what I exactly need. Great job!.
Katherine Nguyen
I have been selling digital products on papmall® for a while. Easy to track my orders and able to contact the buyers with no issues.
Louis Haminton
Chat is available 24/7. I am a new seller but still answers all my questions very patiently.
Amanda de Cadenet
papmall® is a very good platform for sellers such as myself, from their payment system to how they handle customers is excellent.
Justin Long
I've found wonderful, quality clients on papmall®, and have grown my business exponentially. More than I expected.
Julie Yeh
papmall® is a great platform for freelancers who want to get work consistently. For me, this platform has so far satisfied me with their service and support. No complaints at all.
David Schneider
papmall® is an easy-to-use platform. I created multiple profiles for working in different areas, and found long-term relationships with many clients.
Annie Mendes
A really user-friendly platform is papmall®. The website is extremely user-friendly and provides a number of useful features to aid in sifting through the enormous talent pool. I have got many potential clients thanks to papmall®.
Anitha Balakrishna