Discover the sizzling bikini trends 2023 and stay ahead of the fashion game with our comprehensive guide. Uncover the must-have swimwear styles that will make a splash this season, from vibrant prints to daring cuts. Dive into the hottest bikini trends with us and get ready to rock the beach with confidence.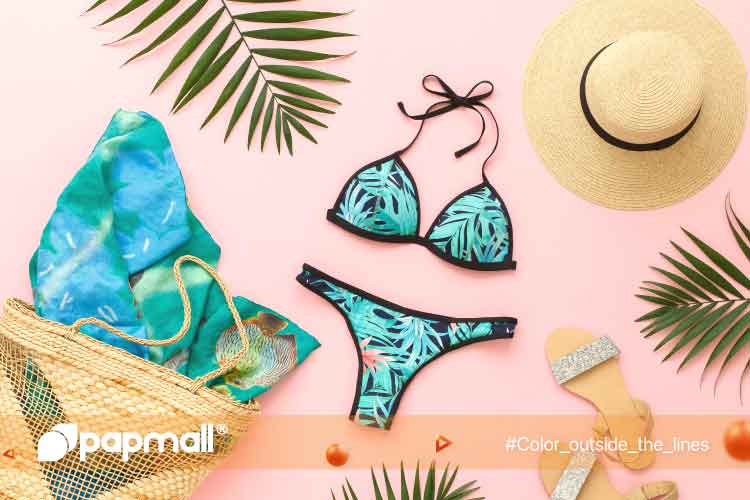 Bikini is a symbol of empowerment, self-expression, and body positivity.
The Bikini Trends – How It Has Happened And Why It Has Become Popular
The bikini has gone through several transformations over the years, evolving from its modest beginnings to becoming a popular and widely embraced swimwear choice. The history of the bikini and its rise in popularity can be attributed to various factors, including societal changes, fashion influences, and cultural shifts. Here's a brief overview:
Introduction and Controversy: The bikini was introduced by French designer Louis Réard in 1946. Its revealing design, consisting of two separate pieces, was considered scandalous at the time. The name "bikini" itself was inspired by the Bikini Atoll, a site where atomic bomb testing took place. The controversy surrounding the bikini's revealing nature helped generate curiosity and publicity.
Influence of Pop Culture: In the 1950s and 1960s, the bikini gained further attention and acceptance due to its representation in popular culture. Movies like "And God Created Woman" (1956) featuring Brigitte Bardot and the James Bond films of the 1960s showcased actresses donning bikinis, contributing to the swimwear's growing popularity.
Women's Liberation and Body Positivity: The bikini became associated with the women's liberation movement of the 1960s and 1970s. It symbolized female empowerment, body positivity, and the freedom to express oneself. Women embraced the bikini as a form of self-expression and liberation from traditional notions of modesty and conformity.
Influence of Sports and Fitness: The rise of sports and fitness culture in the late 20th century also played a role in popularizing the bikini. Athletes and models showcased their toned bodies in swimwear, making the bikini aspirational for many. The emphasis on physical fitness and healthy lifestyles further contributed to the bikini's appeal.
Evolving Fashion Trends: Fashion designers and brands continuously adapted and reimagined the bikini to cater to evolving fashion trends. Different styles, such as string bikinis, bandeaus, high-waisted bottoms, and one-pieces with cutouts, have emerged over time. This constant reinvention has kept the bikini relevant and appealing to different generations.
Influence of Social Media and Influencers: The advent of social media platforms like Instagram and the rise of influencer culture has significantly impacted the popularity of bikinis. Influencers and celebrities showcasing their beach vacations and stylish swimwear choices have contributed to the proliferation of bikini trends and increased their visibility.
Body Positivity and Inclusivity: In recent years, there has been a growing movement towards body positivity and inclusivity in the fashion industry. This shift has influenced bikini trends, with brands embracing diverse body shapes and sizes in their advertising campaigns. The availability of a wide range of sizes and styles has made bikinis more accessible and appealing to a broader audience. And the bikini trends 2023 will help people, as well as fashion brands, keep up with what is going on in the world, in the mind of their target customers.
In summary, the bikini's journey from controversy to popularity can be attributed to a combination of factors such as societal changes, fashion influences, cultural shifts, and the impact of social media. From the bikini trend all over the world to bikini trends 2023, the bikini has become a symbol of empowerment, self-expression, and body positivity, adapting to changing times while remaining a staple in swimwear fashion.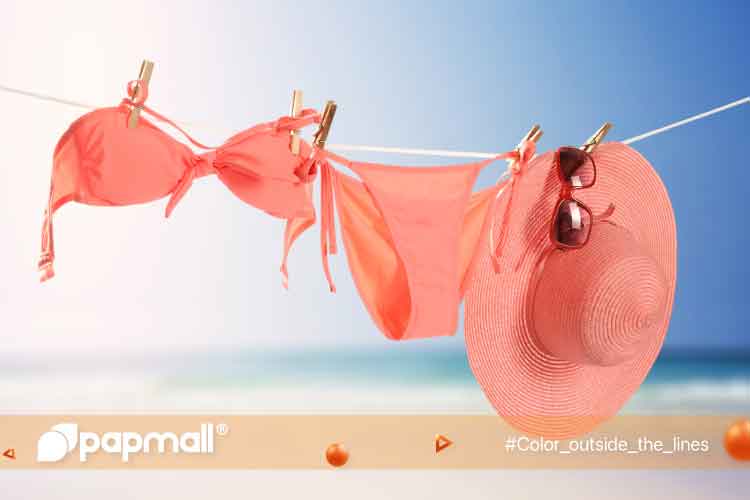 There are tons of bikini types all over the world, which each type offers its own combination of coverage, support, and design.
Types of bikini
Before coming to the bikini trends 2023, let's discover the world of bikinis. There are numerous types of bikinis available, each with its own unique style and design. Here are some popular types of bikinis:
Triangle Bikini: The triangle bikini features two triangular-shaped cups that cover the breasts, attached to strings or straps that tie around the neck and back. It provides minimal coverage and is a classic bikini style.
Halter Bikini: The halter bikini has a top with straps that wrap around the neck, providing extra support and lift. The back and bottom variations can vary, ranging from tie closures to clasps.
Bandeau Bikini: The bandeau bikini consists of a strapless top that wraps around the bust. It is ideal for sunbathing and eliminating tan lines. Some bandeau bikinis come with removable straps for additional support.
High Neck Bikini: The high neck bikini features a top with a higher neckline, often resembling a halter neck. It provides more coverage and is a trendy option for those looking for a modest yet stylish bikini.
Push-Up Bikini: The push-up bikini is designed to enhance and lift the bust. It typically includes padded cups or underwire for added support and shaping.
High-Waisted Bikini: The high-waisted bikini bottoms have a higher rise, covering the navel and providing more coverage to the midsection. This retro-inspired style has gained popularity in recent years.
Brazilian Bikini: The Brazilian bikini is known for its minimal coverage and revealing design. The bottoms are narrow and typically feature a low-rise cut, offering a cheeky or thong-style back.
String Bikini: The string bikini is a classic style with side ties on both the top and bottoms. It allows for adjustability and a customizable fit.
Cut-Out Bikini: The cut-out bikini features strategic cut-outs or openings in the top or bottoms, creating unique patterns or designs. It adds an element of visual interest and can accentuate certain areas of the body.
One-Shoulder Bikini: The one-shoulder bikini has a single shoulder strap, creating an asymmetrical look. It adds a stylish and contemporary touch to traditional bikini designs.
These are just a few examples of the many bikini styles available in general, and bikini trends 2023 in particular. Each type offers its own combination of coverage, support, and design, allowing individuals to choose the one that best suits their personal preferences and body shape.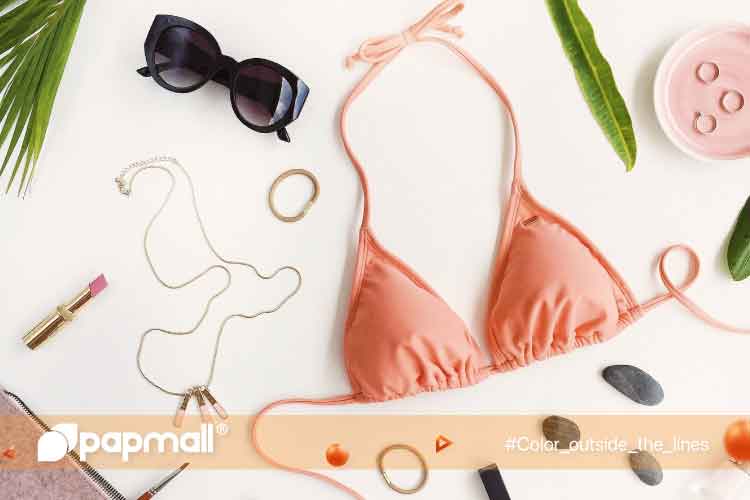 Swimwear options made from recycled fabrics, organic cotton, and regenerated nylon are becoming popular at the current time.
Unveiling the Hottest Bikini Trends 2023
Bold Colors and Vibrant Prints: From neon shades to rich jewel tones, these eye-catching hues will make a statement on the beach or by the pool. Additionally, playful prints such as tropical motifs, abstract patterns, and animal prints will be all the rage, adding an extra dose of personality to your swimwear collection.
Unique Cutouts and Strappy Details: These designs offer a modern and alluring twist to traditional swimwear styles. You can expect to see strategic cutouts on the sides, front, and back of bikini tops and bottoms, creating visually striking silhouettes. Strappy details, whether crisscrossed, knotted, or woven, will add a touch of elegance and sophistication to your beach look.
Sustainable and Eco-Friendly Materials: As the world becomes increasingly conscious of environmental issues, sustainable and eco-friendly materials are taking center stage in the swimwear industry. In 2023, you can find an array of swimwear options made from recycled fabrics, organic cotton, and regenerated nylon. These eco-conscious choices not only help reduce environmental impact but also offer comfort and durability without compromising style.
Sporty and Active Swimwear: These designs combine functionality with fashion, featuring supportive bikini tops, high-waisted bottoms, and racerback or halter-style straps for maximum mobility. Look out for features like built-in bra cups, compression panels, and quick-drying fabrics, allowing you to embrace your active lifestyle while looking chic and confident.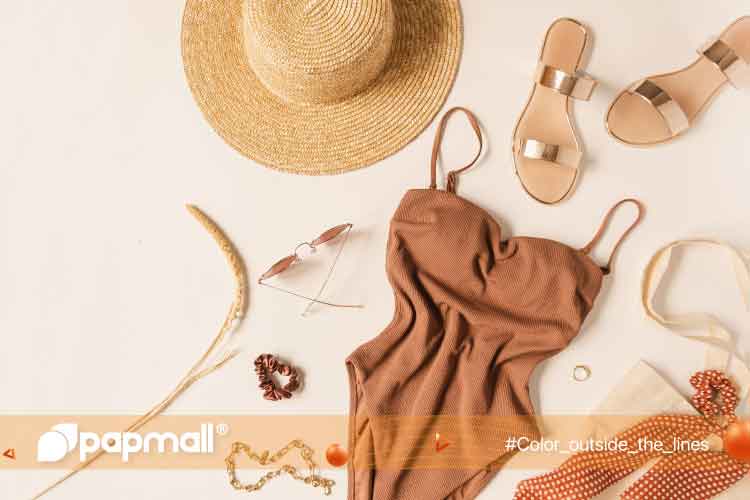 A major bikini trends 2023 will be mix-and-match swimwear, allowing you to personalize your beach look.
Bathing Suit Trends 2023
Here are more details about the hottest bikini trends 2023:
Beyond Bikinis – One-Pieces and Tankinis: One-pieces will continue to be popular for their sleek and sophisticated appeal, featuring cutouts, mesh panels, or lace-up details that add interest and enhance your figure. Tankinis, which combine the coverage of a tank top with the convenience of a two-piece swimsuit, offers versatility and comfort. They come in various lengths and styles, including flowy tankini tops paired with matching or contrasting bottoms.
Mix-and-Match Options: A major bikini trends 2023 will be mix-and-match swimwear, allowing you to personalize your beach look and create unique combinations. You can experiment with different prints, colors, and textures by pairing bikini tops and bottoms from different sets or even opting for mismatched patterns.
Cover-Ups and Beach Accessories: Sheer or crochet cover-ups, such as flowy kaftans, tunics, or sarongs, will offer an effortless and chic way to transition from the water to the shore. Other popular beach accessories include oversized straw hats, wide-brimmed sun hats, straw tote bags, and statement sunglasses, adding a touch of glamour and providing protection from the sun.
Embrace these diverse bikini trends 2023, ranging from bikinis to one-pieces and tankinis, while exploring mix-and-match options and enhancing your beach look with trendy cover-ups and accessories. Enjoy the summer in style!
FAQs
What is the most revealing bikini type?
The term "revealing" is subjective and can vary based on personal preferences and cultural norms. However, when it comes to bikini styles that are generally considered to be more revealing, the following types are often mentioned:
String Bikini: String bikinis feature minimal coverage and thin strings or ties that hold the top and bottom together. They typically expose a significant amount of skin and are known for their revealing nature.
Micro Bikini: Micro bikinis are extremely skimpy and leave very little to the imagination. They consist of small triangular pieces of fabric that cover just the bare minimum, often held together by thin strings.
Thong Bikini: Thong bikinis have minimal back coverage, with a narrow strip of fabric or strings that expose most of the buttocks. They are designed to be revealing and emphasize the shape of the rear.
It's important to remember that personal comfort and body confidence are key when choosing swimwear. Different individuals have different preferences and comfort levels with revealing styles. It's always a good idea to try on different bikini styles and select the one that makes you feel comfortable and confident. Additionally, it's essential to consider any specific dress codes or regulations that may apply to the location where you plan to wear your bikini, as some places may have guidelines on acceptable swimwear.
What color bikini is the hottest?
The "hottest" color for a bikini is subjective and can vary depending on personal preferences, current trends, and cultural influences. However, there are a few colors that are commonly associated with being popular for bikinis:
Black: Black bikinis are often considered timeless and versatile. They can create a sleek and sophisticated look while providing a flattering silhouette.
White: White bikinis exude a clean and fresh aesthetic, perfect for highlighting tanned skin and giving a summery vibe.
Bright and Bold Colors: Vibrant and eye-catching colors such as neon pink, electric blue, fiery red, or tropical prints can make a statement and attract attention on the beach or by the pool.
Pastel Shades: Soft and pastel hues like baby pink, mint green, or light blue can create a feminine and gentle look, often associated with a beachy or romantic style.
Ultimately, the "hottest" color for a bikini depends on personal taste, skin tone, and individual style preferences. It's essential to choose a color that makes you feel confident, comfortable and suits your unique features.
What color is in for swimsuits 2023?
Since bikinis are summer swimsuits and are often designed with bright colors, it's best to just put on anything with vivid colors, which is usually enough to catch any attention on the beach. However, if it is your wish to absolutely stand out in a crowded place, you can use the trending colors of that year.
Although Pantone has announced Digital Lavender to be the color of the year, turning any beach out there into your runway would be a great idea. Besides Pantone, WGSN (Worth Global Style Network) and Coloro have also announced five colors that will be hot trends in 2023, those are the Digital Lavender, Astro Dust, Galactic Cobalt, Sage Leaf, and Apricot Crush.
Anyway, whether it is for other people's favor or your own confidence, love is the most important thing that you should care about. And that you should wear any color that you like, that you think will make you the most beautiful. And you truly are.