Top 5 most beautiful places in the world in 2022
29 August 2022 By papmall®
What's inside?
If you're a freelancer and sick of working at home, papmall® advises you to embark on a traveling journey along to have a relaxing time that will help you have more ideas for your job. papmall® offers you the top 5 tourist destinations in the world in 2022.
More details can be found below the article.
5 best places to visit in the world for freelancers in 2022
1. Vietnam - Danang
Dragon Bridge
The third-largest city in Vietnam is Da Nang, which is located about 30 kilometers (19 miles) north of Hoi An ancient town. Da Nang's white sand and clear water beaches, like those in another Vietnamese coastal town, are a must-see for beach enthusiasts, and the city also offers fantastic nightlife. When the Dragon Bridge is illuminated at night, the entire area appears breathtaking from one of the many rooftop bars there.
Dragon Bridge of Danang in Vietnam - One of top 5 destinations in the world
My Khe Beach
One of the most well-liked tourist destinations in Danang is My Khe Beach. Summertime at My Khe Beach brings back the kind of beauty that can make you wish you could see it every day: the beauty of freedom, of a calm and empty sky, and of a beach that is deserved its reputation as one of the most beautiful in the world. One of the attractions in Da Nang that no one visits and checks into is this one.
My Khe Beach in Vietnam - One of top 5 places to visit in the world
Ba Na Hills
Ba Na Mountain, sometimes referred to as Ba Na Hills, is situated in Hoa Ninh Commune, Hoa Vang District. 30 kilometers to the southwest of Da Nang City. This is a popular tourist site that was quickly built out and transformed into a resort to drawing tourists.
In the latter part of the nineteenth century, the French made their way to this Ba Na Hills resort. They have constructed numerous huge villas, sports facilities, and a variety of eateries here. Bananas are abundant in the area outside of this establishment, hence the name "Ba Na." This area has been progressively dismal for nearly a century as a result of war and time. However, Ba Na Hills has been awakened with development since the turn of the century.
With forest trees, rivers, streams, and waterfalls, the paintings of nature appear directly in front of tourists' eyes on the road to Ba Na Hills. The rustling of the wind and the murmuring of the water flow are all intertwined.
Travelers have the opportunity to find Chua Mountain, Vong Nguyet Hill, Nai Stream, Mo Stream, Da Stream, Tranh Cave, or Ba Temple when they visit this location. Visitors may overlook a wide area from Da Nang to Son Tra Peninsula, Ngu Hanh Son, and Hai Van Pass from the summit of Ba Na Hills.
Tourists can also begin their 40-kilometer journey from the mountain to the sea in Ba Na Hills. Beaches with stunning scenery include Xuan Thieu, My Khe, and Bac My An. Nothing is more fascinating than taking in the natural view from the Ba Na hills. It's the best to view the dawn or sunset from Ba Na Hills. When the horizon has cleared at the foot of the mountain, dawn is spectacular.
Ba Na Hills in Vietnam - One of top 5 beautiful places in the world
2. Japan - Tokyo
Tokyo is without a doubt one of the world's most impressive cities. Tokyo, the capital of Japan, is one of the best cities to visit in Asia because of the contrast between its rich past and its frantic, modern vitality. It is the location of the Imperial Palace, the Government and Parliament buildings, as well as opulent hotels, Michelin-starred eateries, and world-class shopping. This densely populated city is situated in East-Central Honshu, the largest of Japan's main islands, and makes a fantastic starting point for traveling around the rest of the nation.
Shinjuku Gyoen National Garden
Because it combines three traditional garden styles—French Formal, English Landscape, and Japanese Traditional—the garden is regarded as one of the best. Due to the approximately 1,500 cherry trees in the garden, it also happens to be one of the best places in Tokyo to see the cherry blossoms. There are also tulip trees, cypresses, and Himalayan cedars. When the leaves start to turn crimson and gold in the fall, a lot of people visit the garden. The garden also has a greenhouse, lovely ponds, and a number of pavilions.
Shinjuku Gyoen National Garden - world's best destinations
Nature at Ueno Park and Ueno Zoo
Ueno Park (Ueno Ken), the city's largest green area and one of its most visited tourist destinations, is a paradise-like sanctuary of green in the middle of hectic Tokyo. The park offers a variety of temples and museums to see in addition to its stunning gardens.
A modest boat cruise on the reed-fringed Shinobazu pond, around a tiny island with its Bentendo Temple, is one of the attractions of this 212-acre park, which is crisscrossed by delightful gravel walkways. Visit the 256 metal and stone lanterns of the 17th-century Toshogu Shrine (Nikk Tsh-g) as well.
Nature at Ueno Park and Ueno Zoo - beautiful places in the world
3. France - Paris
Eiffel Tower
Paris would not be the same without the iconic Eiffel Tower. It was created by Gustave Eiffel to mark the French Revolution's 100th anniversary and displayed at the Exposition Universelle in Paris in 1889. It is one of the most popular tourist attractions in the world, drawing about 7 million tourists a year to its 324-meter height.
The Eiffel Tower 58, which has two stories and rises 58 meters above the ground, is located on the first floor. The best view is found at 115 meters on the second floor since you can see the ground below you while diving. At 275 meters, the third level is where you can finally view what Gustave Eiffel's office looked like. It is feasible to use the stairs and ascend the steps for the more daring (1,665 to the summit).
Eiffel Tower - One of the most beautiful places in the world
Louvre Museum
The Louvre is the world's most popular art gallery. This historic structure, a former royal palace with a total size of 210,000 square meters, including 60,600 for exhibitions, is located in the center of Paris. The Louvre, where the museum is located, was first a stronghold constructed in the late 12th century under Philip II. In the museum's basement, it is possible to see the fortress's ruins.
There are eight departments in the collection:
Egyptian antiquities

Oriental antiquities

Greek, Etruscan, and Roman

Islamic Art

Sculptures of the Middle Ages, Renaissance, and Modern Times

Objects of art

Paintings

Graphic arts.
Louvre Museum - top 5 vacation destinations in the world
Notre Dame Cathedral
One of Paris' most memorable images: The Roman Catholic cathedral Notre-Dame de Paris, also referred to as Notre Dame, is situated on the Ile de la Cité's eastern side. It is widely regarded as one of France and Europe's best examples of French Gothic architecture. This cathedral, which was started in 1163 and finished in 1345, is stunning with its numerous sculptures and gargoyles that embellish the roof.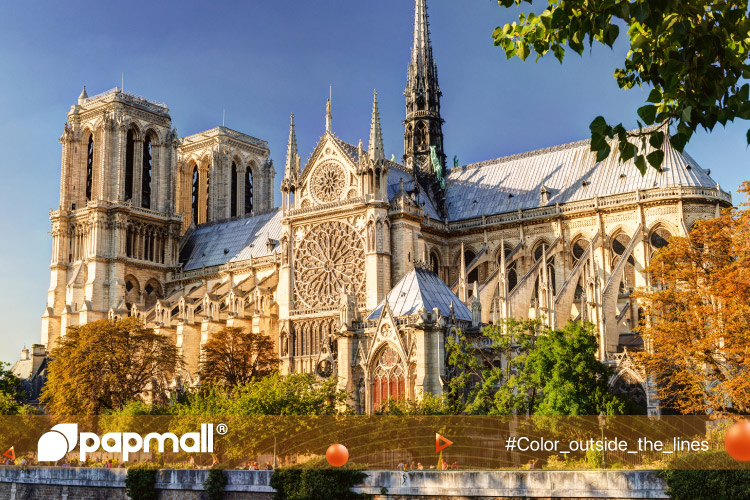 Notre Dame Cathedral - top 5 places to visit in the world
4. Singapore
Although Singapore is a small city, it has one of the highest tourist populations in Asia. Being a modern city, Singapore has a ton of amazing locations to see.
Singapore has a tropical climate because it is situated in South East Asia. One of the cleanest cities in the world is located in this nation. Above all, You will visit wonderful locations in Singapore and take in the warm weather and fresh air.
Singapore's transportation system is very similar to a playground. There are no worries on your mind. Singapore's public transportation system is first-rate. Every part of the city is easily accessible. Amazing locations in Singapore cannot be seen in a single day. You'll need a few days to take advantage of everything Singapore has to offer.
Here are 3 incredible locations in Singapore. Each location offers breathtaking scenery and a unique experience.
Marina Bay Sands
An iconic building in Singapore is Marina Bay Sands. Additionally, this is the list of Singapore's top attractions. A reclamation island is Marina Bay Sands. A hotel, mall, art gallery, theater, and casino are all available in this neighborhood. You can indulge in every captivating style. Additionally, you can enjoy a good meal in a restaurant or shop for anything you desire.
Marina Bay Sands - top 5 beautiful places in the world
Gardens by the Bay
This garden is one of Singapore's most incredible locations to visit for stunning views. The artificial natural gardens in this city are stunning. Such a magnificent location. You'll have the impression that you're in a real, organic garden. There are three separate gardens in this area: Bay South Garden, Bay East Garden, and Bay Central Garden. Singapore is viewed as a metropolis in the center of a garden according to this location's philosophies.
Gardens by the Bay - top 5 tourist places in the world
Merlion Park
Singapore is represented by this park. The majority of Singapore's must-see locations are located here. Lion's head and a fish compose the body of the Merlion statue. From Merlion Park, you can shoot pictures with the monument as the background. Day and night photography is possible. Additionally, it is quite easy to get here. You can simply take a bus to get there.
Merlion Park - top 5 travel destinations in the world
5. Italy- Venice
Grand Canal
Venice's most famous landmark, Canale Grande or Grand Canal, is flanked on both sides by stunning and vibrant-looking palaces and castles. One of the biggest attractions in Venice is the canal, which winds zigzag through the city and is crossed by a few spectacular bridges. It is one of the most popular places to go in Venice after dark to enjoy the stunning sunset and the canal's sparkling water.
Italy - top 5 countries to visit
Murano
One of the most visited tourist destinations in Venice is the group of islands known as Murano in the Venetian Lagoon. The Glass Island of Venice is a collection of seven islands connected by bridges and divided by eight canals that are well-known throughout the world for mirrors, glass items, and glassmaking. It is one of the well-known locations in Venice.
Murano - top 5 vacation destinations in the world
Piazza San Marco
With its location in front of St. Mark's Basilica and the Doge's Palace, Piazza San Marco is one of Venice's busiest public squares and one of the city's most popular tourist destinations. A narrow inland canal called the Rio Batario separates the square from the palace. All of Venice's administrative offices and governmental structures are located here. Without a doubt, it ranks among the top attractions in Venice.
Piazza San Marco - one of destinations around the world
In conclusion
Traveling the world and living as a freelancer are both exhilarating and crucial for personal growth. No matter what you do, there will always be a lingering sense of adventure, even if you go with someone at your side.
As a traveling freelancer, you not only can explore many places but also broaden your horizons and have more ideas for your freelance jobs. So, papmall® suggests you top 5 beautiful places based on the experiences of the author. papmall® hopes you will have more great experiences.
Related Articles
---